1. Stencil Work On Furniture And Walls
There are several ways to use stencil work on furniture and walls. You can easily find ready-made stencils from the market. If those don't please you, you can make one yourself.
Painting over a stencil can work on most surfaces. Make sure the paint you use is compatible with the surface finish. For the best results, use high-gloss or semi-gloss spray paint or enamel.
Surfaces to be stencilled must be clean; remove all wax and dirt. If you're decorating a newly varnished piece of furniture, work while the varnish is still slightly tacky. Carefully press the stencil into place on the tacky surface, smoothing it down flat on the wood. Make sure all cut edge adhere to the varnish but be careful not to touch the varnish or you'll leave fingerprints.
On dry surfaces, attach the stencil carefully with masking tape. If the finish is new, make sure it's completely set; otherwise, the tape may damage it. Mask the entire piece of furniture with newspaper. Spray the paint onto the stencil in short, even applications; cover the stencil surface completely, but don't let the paint get thick enough to sag or drip. Let the paint dry almost completely; then remove the stencil. Repeat the process for each colour of the design; make sure each colour is completely dry before applying the next colour. To prevent damage to paint or bronze powder, stencilled surfaces should be sealed with varnish. Apply the varnish directly over the stencils.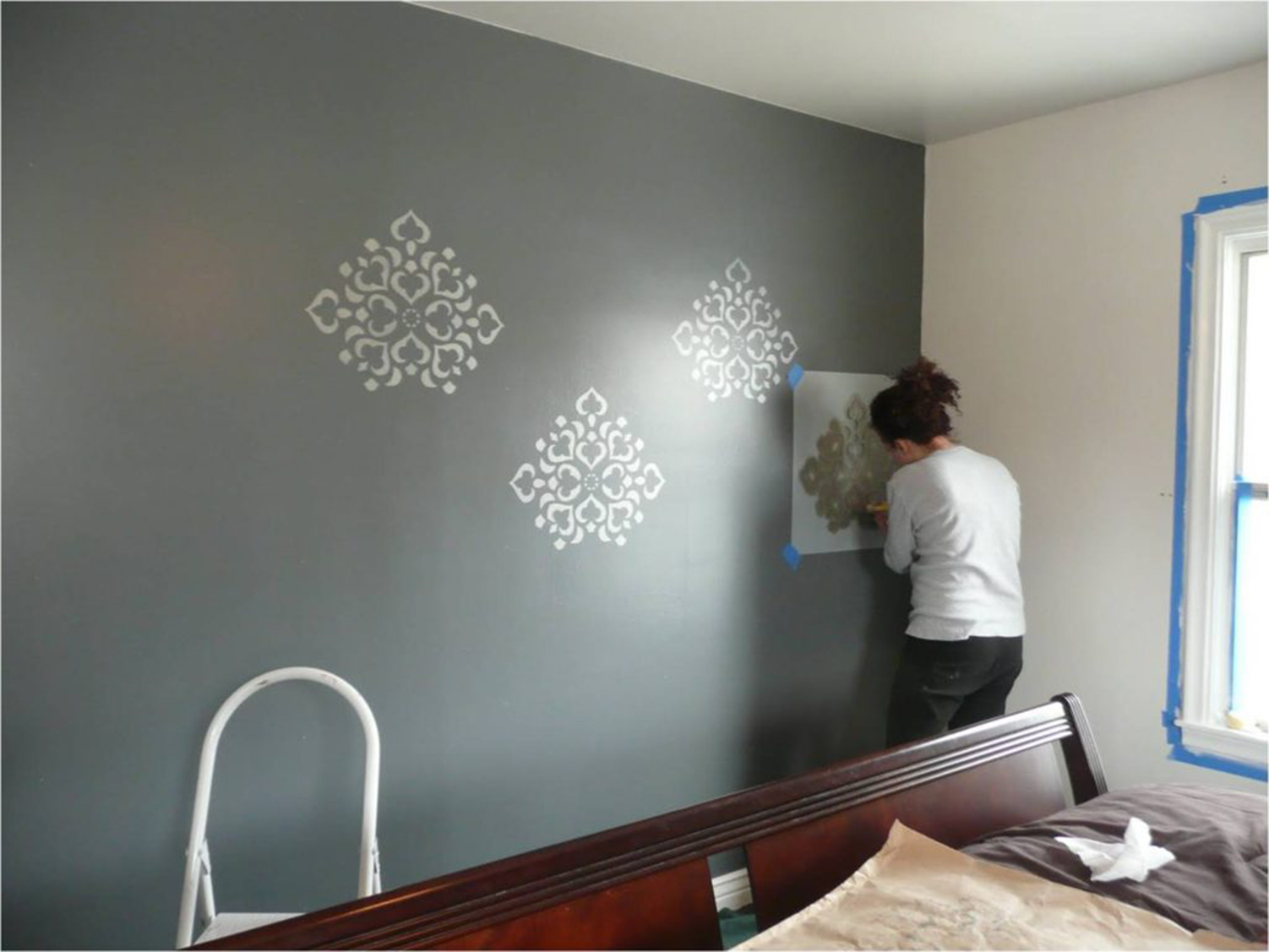 2. Floral Arrangements: Artificial or Natural
Is there a boring corner in your house that needs more character? A floral arrangement, whether artificial or natural, is the way to go. Roses are the most popular flowers used in floral arrangements, closely followed by carnations, gerbera daisies and chrysanthemums.
Flowers can either be extroverted or introverted, a centrepiece, or quietly harmonious in a room setting. They can be used subtly to bring two corners of a room together by using similar combinations in the two areas. For eg, one huge installation of cut roses is installed in one corner of the bedroom, and two of the flower heads are placed in a glass box on the bedside table.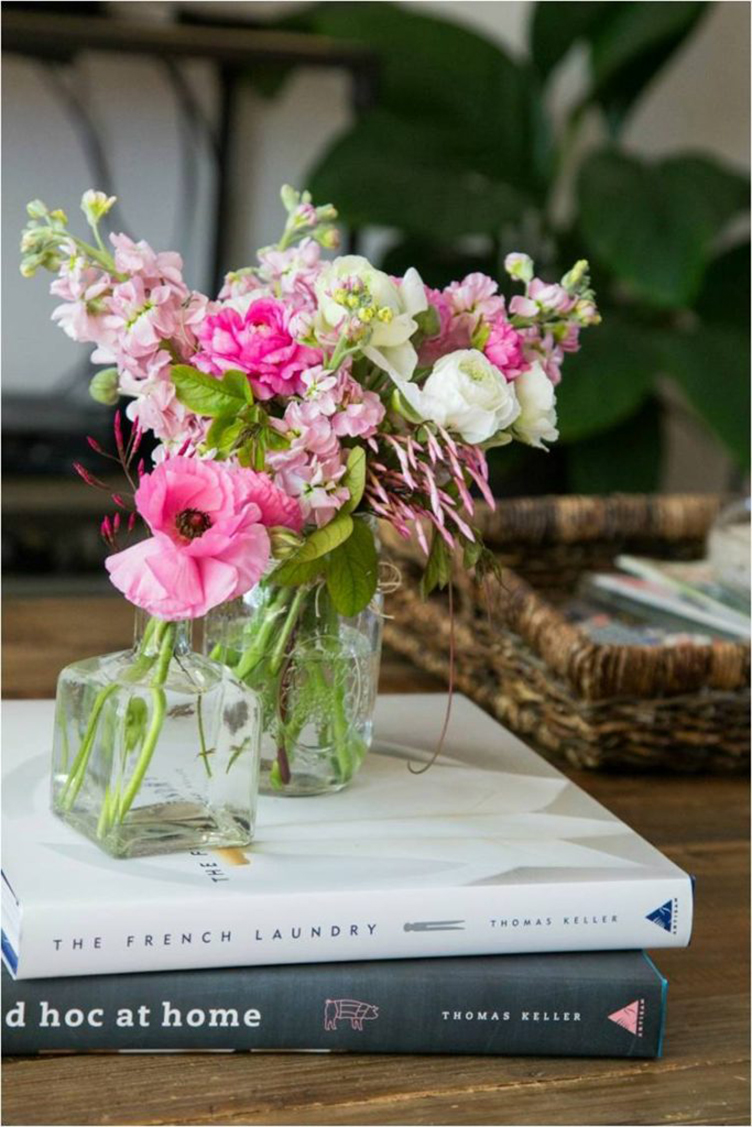 3. Mural/ Geode Artwork on Walls
A mural is some artwork which is applied directly to a wall, ceiling or other sizable stable surfaces. Great spots for a mural include foyers, hallways, children's rooms, game rooms, basements and bedrooms. Including a mural in your interior design is one way of making a permanent statement in the home. Murals can be used to fill large, otherwise blank or unused walls, to frame and highlight areas such as doorways and to create focal points within a room, such as a backsplash or a fireplace wall.
Geodes are spherical to subspherical rock structures with an internal cavity lined with mineral materials. Geode art is inspired by such crystal rock formations and can be created using acrylics or resins. It is a beautiful way of making an otherwise bland space to have a "wow" factor.
If you want a resin geode for your home but don't have the budget to hire an artist, you can try making your own. Artists Evan & Katelyn show you just how fun it can be: https://www.youtube.com/watch?v=4pTvd1g8gYY&feature=youtu.be
4. Change of Curtains
Curtains heavily influence the look and feel of a room. The colours, textures, length and thickness, need to work in such a manner that it harmoniously ties the whole room together. Contrasting colour palettes can be used to bring a pop of colour into the room without being too heavy. Curtains can also be used for decorative purposes, such as a draping of a muslin white curtain on the staircase in front of a window.
5. Adding Extra Lights As Wall Washers
There is something extra soothing about being able to change the atmosphere of a space by a flick of a switch. Lighting falls into three main categories: task, mood and decorative. Lights that face a wall can add drama and depth to a room. It creates triangular or semi-spherical patterns on the wall which gives the room a different mood.
6. Displaying Objects
While antiques undoubtedly pay homage to the past, displaying them in a more modern way can breathe new life into your home.
"The personal touch of adding antiques to a modern space will allow them to stand out much more than what was shown in a showroom, breaking the monotony of an all-one look or period room," said Benoist F. Drut, owner of Maison Gerard gallery in New York City.
One of the most common forms of the collection is usually artwork or photographs. This is probably the easiest type of object to display.
7. Cushions and Throws
If chosen correctly, cushions can pull together all the elements of a room and bring harmony to a once busy or mismatched room. Selecting the right cushions for your room can be very difficult and it's easy to get it wrong. This step-by-step process will guide you through the decision-making process and help you to find the ideal cushions for your living room.
Here are some tips to find your perfect set of cushions:
Throw out matching cushions.
Choose a colour palette.
Decide how many pillows you want.
Try to stick to the same side of the colour wheel.
Choose the size and shape of the cushions.
Decide how to arrange them on your sofa.
Find your perfect collection of cushions.
8. Niches and Shelves
Niches are a skilful way of transforming redundant space into a feature within a room. It can either be caused by imperfect architecture, or something consciously added to the design to create an area for display. There are several ways to style a niche. Backlighting, colours, textures and most of all, the piece in the display.
Shelves, on the other hand, help keep the space organized and neat. When placing displays on a shelf, always start from the centre, and work your way around it. Try not to be too symmetrical. Instead, find the right balance between sizes, textures and colours.
9. Framed Pictures
This is my favourite way of bringing character to space. Photographs and art pieces that you have a connection with can add so much depth and personalization to space. The type of frames and the placement of multiple frames together are things with so much potential. There are endless types of frames to choose from metal, wooden, cloth, glass, types of different sized and textures. Don't be afraid to mix and match things the way you like it.